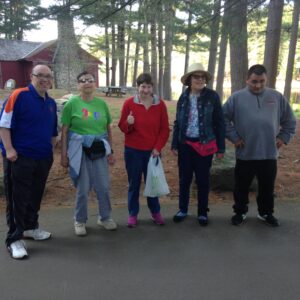 There are several meaningful ways to support SARAH throughout the year. All contributions are greatly appreciated and allow us to continue to do everything we can to make independence possible for those we serve.
Annual Fund – Annual contributions, including gifts through the year-end appeal and other non-event related opportunities, provide stability and a reliable source of annual support.
Event Support – Our annual fundraising events provide individuals and businesses opportunities to connect with SARAH's mission and fellow donors while enjoying lively events and activities.
Community Events – Civic and school-based groups, along with other members of the community, leverage their time, energy and resources to conduct and host fundraising events on behalf of SARAH's mission. These community-led initiatives are critical to helping us fulfill our mission.
Foundation and Other Grants – Local and regional foundations provide vital support, often to specific programs, including important services that do not receive state and federal funding.
Planned Giving – Planned giving refers to the broad range of options available to donors to make a future gift, via estate plans and other tools, that can provide the donors with valuable tax benefits, while leaving a legacy that can help sustain the SARAH mission for years to come.
SARAH Partners Program – The SARAH Partners Program is designed to develop fully integrated, mutually-beneficial partnerships with local businesses and regional companies. Our goal is to build robust and long-term relationships in support of SARAH's mission and each company's specific goals and objectives. Become a SARAH Partner today!
To learn more about the various ways to support the SARAH Foundation, contact Ken Alberti at [email protected].