Gavin & Friends by SARAH Tuxis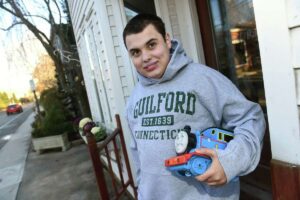 Gavin & Friends is a new program by SARAH Tuxis, slated to open in the Summer/Fall of 2023. It will serve as a facility for adults with disabilities to gather and live in downtown Guilford. The program was founded in partnership with building owner and community member, Linda Toscano. Gavin, Linda's eighteen-year-old son has autism. Her involvement with this project stemmed from her wish to establish a program so that her son would one day have a stable place to live and thrive as an adult after he graduates from Guilford High School at the age of twenty-one. This facility, which will be modeled after The Harbor at SARAH Tuxis, will provide Gavin and other adults with differing abilities with a state-of-the-art space equipped with an arts and crafts room, space to practice daily living skills, rec room, multimedia room, eat-in kitchen, barber shop and nail salon, sensory room, lounge, music room, respite care apartment, and more. The location, in the heart of downtown Guilford, will provide SARAH clients with a plethora of opportunities to fully integrate into the community as volunteers, employees and will also give them easy access to the many public spaces throughout the downtown area that all members living in the Guilford community are able to enjoy.
Thank you to all the sponsors and donors who are helping to make this program possible!