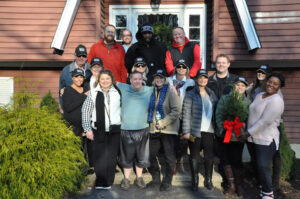 Program Overview
The SARAH Partners Program is designed to develop fully integrated, mutually-beneficial partnerships with local businesses and regional companies. Our goal is to build robust and long-term relationships in support of SARAH's mission and each company's specific goals and objectives.
By working directly with local business leaders, SARAH Foundation staff will tailor a partnership model that includes multiple points of entry and mission focused interactions.
Downloadable SARAH Partners Promotional Flyer
Partnership Model
Every partnership with SARAH is unique and there are a broad range of initiatives and opportunities to collectively form a strong partnership. Key partnership components are categorized below.
Mission Alignment
We seek partnerships with socially responsible, inclusive businesses with similar values.
Executive Participation
Partnerships include the possibility for executives to participate in leadership roles, including board membership, event committees and other meaningful opportunities.
Financial Impact
Philanthropic contributions are critical to SARAH's long-term sustainability and the partners program offers numerous ways for companies to contribute to our mission, including annual gifts, event sponsorships, grants and campaign leadership.
Employee Engagement
Unique and compelling volunteer opportunities – ranging from annual events to "adopt-a-house" initiatives to donation drives – provide dynamic experiences to directly engage employees in the mission of serving others.
Brand and Community Awareness
Co-branding initiatives can generate significant revenue and awareness for SARAH's mission and programs while providing a company or business the opportunity to connect with its customers and clients in meaningful ways in-person, digitally and through creative product and service engagement.
Partners in Action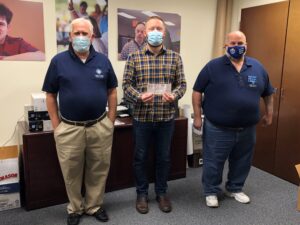 The Knights of Columbus Council 3928 of St. George Parish in Guilford, CT is pictured here presenting a generous donation from their most recent Tootsie Roll Drive to the SARAH Foundation. The Knights of Columbus Council 3928 have partnered with and supported the SARAH Foundation in a variety of ways for many years, including through their annual Tootsie Roll Drives, Fish Fry Friday dinner events, and helping to host SARAH's annual Summer Breeze Ride for Autism and the Stand Up for SARAH comedy night at their East Creek Landing banquet facility.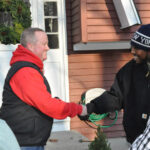 Page-Taft Real Estate of Guilford – Adopt a Home Program
The agents of the Page-Taft Real Estate Office adopted a SARAH home in the fall of 2019. Volunteers helped with fall clean-up of the property and returned with decorations and gifts for residents during the holidays.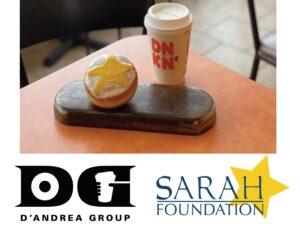 D'Andrea Group Runs Star Donut Campaign 
Three Dunkin locations in Guilford, CT owned and operated by D'Andrea Group hosted a month-long custom star donut campaign. Dunkin team members and loyal customers helped to make this campaign a success by purchasing more than 1,600 star donuts!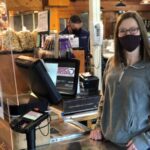 Register Round-Up and Change Jars
Bishop's Orchards Farm Market and Winery held a Round-Up at the Register during the month of January 2021. Customers were asked to round-up their bill upon check out. This one-month fundraiser raised nearly $4,500.00. The Marketplace at Guilford Food Center will also be offering a register Round-Up and Change Jar collection during the month of March 2021.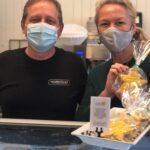 The Marketplace at Guilford Food Center made SARAH Star Cookies to order during the holidays and throughout the year for various holidays. A percentage of the proceeds from the cookies will be donated to the SARAH Foundation. Any business can designate a product(s) or create a custom SARAH product and dedicate proceeds from sales to SARAH.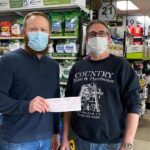 Country Paint & Hardware Round Up A Success
A huge SARAH thank you to our friends at Country Paint & Hardware for running a successful round-up campaign during the month of April to benefit the SARAH Foundation. Their customers donated nearly $500 during the month and to top it off, Country Paint & Hardware rounded up with a match of their own for a total contribution of $1,000!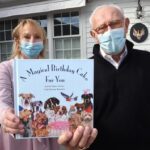 A Magical Birthday Cake for You
Author Jeannie Dapra agreed to donate net proceeds from the sale of her new children's book – A Magical Birthday Cake for You – to SARAH. Books are sold at local retailers including Breakwater Books, Just Hatched, Harbor Books, and Saybrook Home as well as Amazon.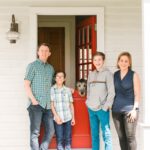 Front Porch Photos
During the Spring of 2020, Keeley Moffit of Keeley Abigail Photography offered her photography services, in lieu of a donation to the SARAH Foundation, to take nearly 65 front porch photos of local families. All proceeds benefited the SARAH Foundation.
For more information and to become a SARAH Partner, please contact:
Ken Alberti, Executive Director, SARAH Foundation
203-453-6531 or [email protected]